Quote:
so that greater maximum separation of near-hinge areas of the plates
Mine separates 10mm at 90° for ~5pF, 2-3pF of which is hinge capacitance. Capacitance is ~6.5p at ~45° and ~9p at ~22.5° (outer edge separated by 25mm).
I used spring brass plates to keep tension on the conical sapphire pivots to maintain accuracy but if these were replaced with a non metallic, high Q equivalent (I don't know of one that would wear well and maintain it's tension) then the hinge capacitance could be reduced. An adjustable socket on a fixed bracket would work but would be more involved for a homebrew effort (and require periodic adjustment).
The unit however, as constructed, matched the "Q" (16000) of a 500pF, Johnson, silverplated, ceramic variable. There are half a dozen improvements I could incorporate that would probably make it extremely good, but size is always the killer (and the cost of silver .
)
Extending the length of the adjustor-screw outrigger (and using a finer screw pitch) decreases the rate of "C change" but again, adds to the bulk. (See earlier concept drawing below.)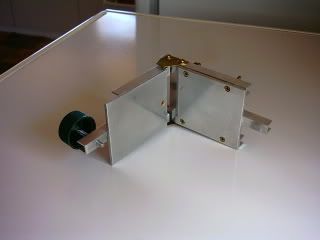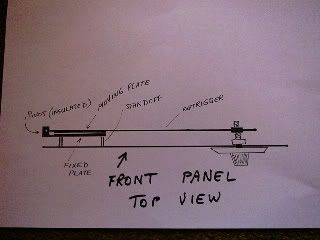 .....................................